Enabling worry-free journeys for
parents
children
schools
No more chaotic mornings! RushTrail takes your children to school safely & efficiently. Solving school bus concerns at a single click.
Choose PickMe! for Schools for:
Live school bus location tracking.
From only as low as $200/month*.
Shuttles your children anytime, anywhere. 
*Applies to a one-way shuttle service with 4 pax only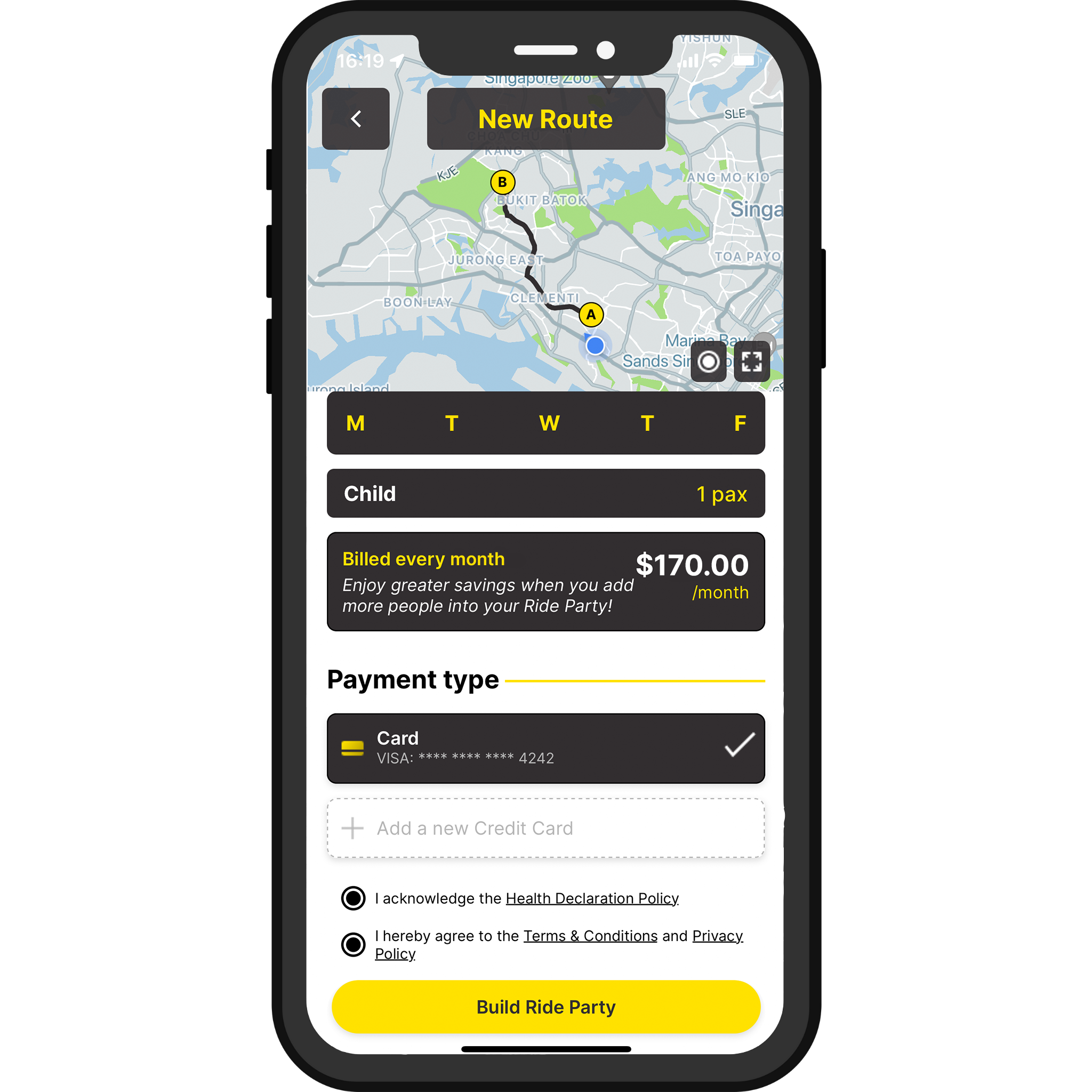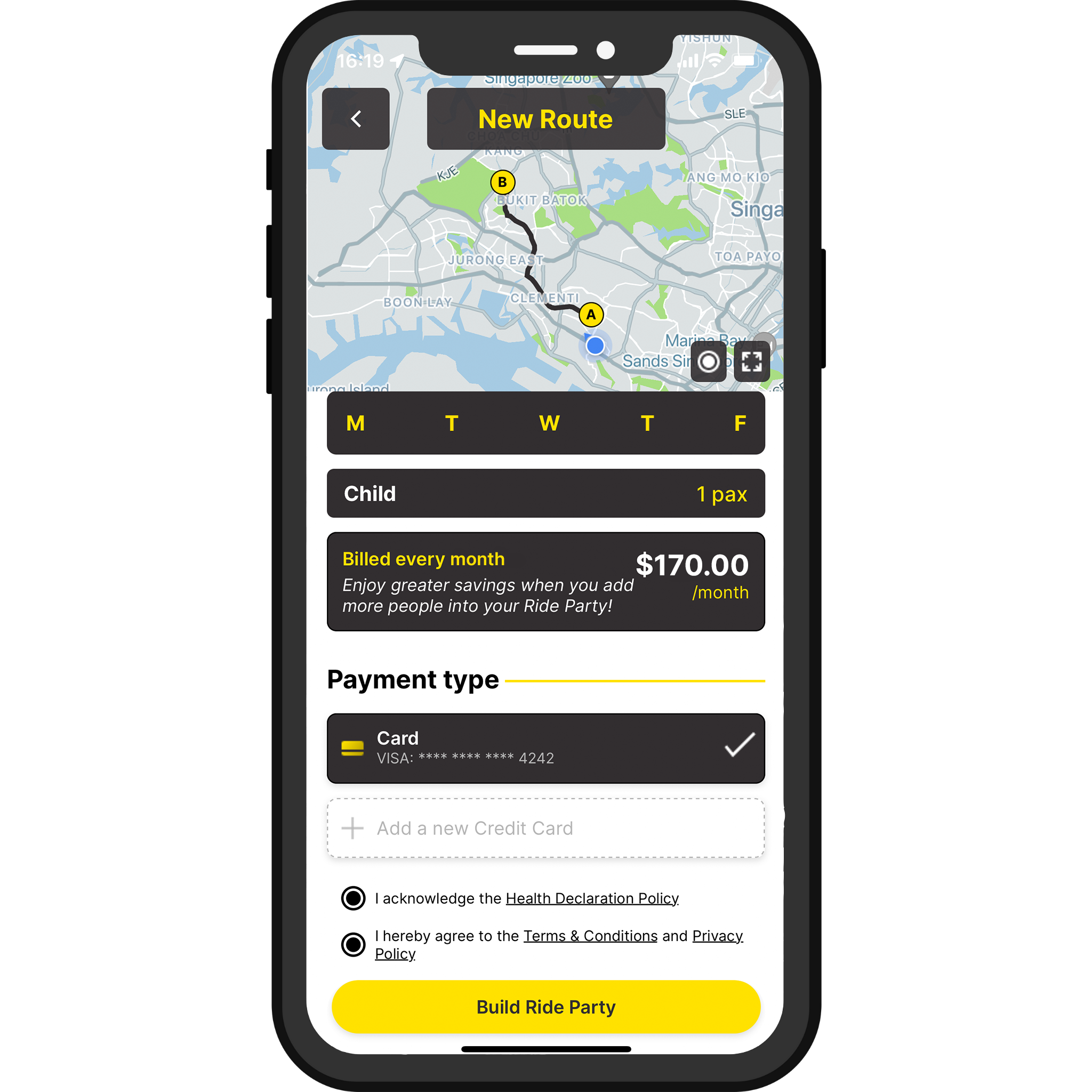 What is PickMe! for Schools price package?
PickMe! offers a 5-day week one-way cost for this service are as follows:
6 Pax: SGD 200 per pax per month

7 Pax: SGD 180 per pax per month

8 Pax: SGD 150 per pax per month

9 Pax: SGD 135 per pax per month
Since this is a bus-pooling service, how many students are required before starting a route?
RushTrail shuttle service requires only a minimum of 4 pax is required to start a route up to a maximum of 9 pax. You can also loop in fellow parents from the same school within your home's vicinity for PickMe! for Schools. The sooner your ride hits 4 pax, the earlier we can launch your preferred route. Referrals to other parents can earn you more rewards!
I am interested, how do I book?
You can download the RushTrail app and click on the 'Schools' button on the dashboard after signing up. 
Will there be any bus attendant for this service?
There will not be any bus attendant for this service unless the vehicle is 100% filled with children 6 years old and under. There will be an additional charge of SGD 220 per pax per month for a bus attendant (one-way).
Can I make a cancellation on my monthly subscription plan?
All monthly subscription plans are non-refundable after payment has been made. The subscription can only be cancelled anytime 5 days before the next the billing cycle. Please note that subscription cancellation will take effect for the following month's ride.
E.g.
Next billing date: 14 Feb 2022
Subscription cancellation period: 14 Jan 2022 - 8 Feb 2022
Subscription ends: 14 March 2022 
How long after payment will we know that a vehicle has been secured?
RushOwl would require a maximum of 2 weeks lead time to source and screen the vehicles and drivers prior to deploying the route. Should the vehicle and driver be cleared for deployment early, an in-app notification will be sent to you. 
How can I track the vehicle's location?
Upon activation of the bus, an in-app notification will be sent to you. Click on the notification and you will be able to view the bus' live location. Alternatively, you may also refer to the bus schedule that was sent to you via your email upon booking confirmation. 
What are the pick-up timings?
We will confirm the pick-up timing with you through an email confirmation after payment has been made. 
Do note that your child has to be at the pick-up point 5 minutes before the given timing to ensure that all the students can reach school on time. In the event that your child is more than 10 minutes late, the bus driver will have to leave the pick-up point without your child.
What if my child is unable to make it for the bus service that day?
If your child is unable to attend school on that day, you can cancel the necessary trips through our app, do note that this cancellation is also non-refundable.
These are done within a time frame of 60 minutes from the first pick up to the last drop off, subjected to traffic conditions. For schools, the waiting time for the queue to drop-off or pick-up your kids at school will not be included in the time frame.
Is there any estimate on the pick-up/drop-off time for my child?
The pick up timings will be reflected in-app once payment has been made and a vehicle is secured for the trip. Timings are subjected to changes based on our optimisation but will still be within the 1 hour time frame. Do note that RushOwl has the right amend the timings and schedule of the routes at anytime.
Will the driver and vehicle be serving on a permanent basis?
Vehicles and drivers provided will be subjected to changes as drivers come and go however, we will do our utmost to ensure a permanent vehicle and driver is set. Do note that RushOwl has the right to change vehicle and drivers as necessary at anytime.
If the current route has 4 pax and 1 person drops out, will the service still serve the other 3 pax?
Should one child drop out and the vehicle is left with 3 pax, we will give parents a one month lead time to find a new passenger or find an alternative transportation. RushOwl will continue to source for passengers as well but will not be able to promise a service continuation should no passengers take up the service.
Where will the pick-up and drop-off point be at home?
At home, the pick-up and drop-off point will be at the service road or car park closest to the lift landing at HDB blocks, the pick-up/drop-off point or the closest block to the security guardhouse at condominiums or immediately in front of the gates at landed properties. We will confirm the exact pick-up/drop-off point once a driver is found.
Where will the pick-up and drop-off point be at school?
At school, the pick-up and drop-off point will be at closest allowable point as specified by the school. Typically, for Secondary and Tertiary schools, the point will be just outside the main gate. For Primary and International schools, within the school compound. For special arrangements such as vehicle decal requirements to enter school compound, we do seek parents assistance to inform the school from time to time should there be any changes to the vehicles and/or drivers. The vehicle details can be found in-app. We will confirm the exact pick-up/drop-off point once a driver is found.