RushOwl secures $650K in a seed round to create a digitised public transportation network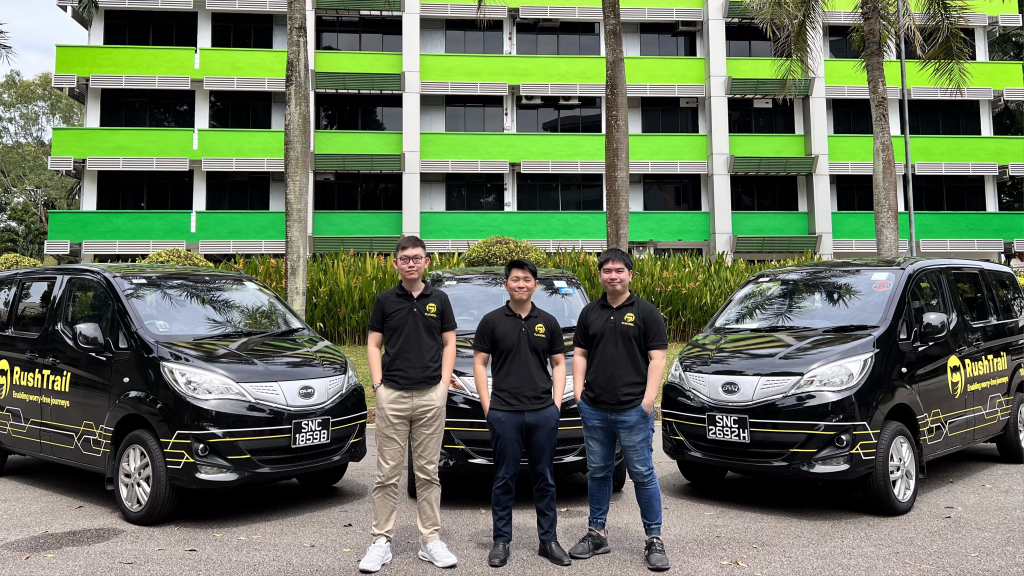 The startup aims to facilitate more than 2 million rides on its platform by the end of 2022.
Singapore, 27 December 2021 – RushOwl has secured a funding of SGD $650K in a Seed round participated by by Seeds Capital. The investment arm of Enterprise Singapore, Silicon Solution Ventures, The Workplace Accelerator and a network of angels from the Innovation, HR and Public Transportation sectors also took part in chipping in. This made the Seed round oversubscribed by more than 3 times over its intended raise amount.
RushOwl plans to use the funds to use the funds expand its ride-sharing product, RushTrail, across Asia Pacific (APAC).
Today, RushTrail by RushOwl, is responsible for more than 3,000 daily islandwide trips. RushTrail mainly sends passengers directly to their everyday locations and bridging first-mile-last-mile journeys.
Since 2019, the RushTrail app saw a 400% growth in ridership as commuters seek for a direct transport alternative from home direct to work during the pandemic.
The RushTrail app allows commuters to unlock reliable transportation services based on their personal schedules. An AI module will automatically facilitate the rides by pooling these requests together through the firm's dynamic routing algorithm. This makes RushTrail a flexible and environmentally-friendly ride-sharing service for commuters. For commuters who prefer safer and direct journeys to work than going through multiple transit options, RushTrail helps them save time. 
Not only that, RushOwl has a corporate service for companies who want to create optimised and flexible employee commute plans. This service helps companies offer additional employee benefits, which aids in employee retention and increased productivity since employees can get to work easily and on time. 
In a recent public tender organised by Sentosa Development Corporation, RushOwl has won the smart mobility contract of over 700K to facilitate Sentosa's employee transportation. Participants of the tender include local transport giant, ComfortDelgro, as well as homegrown smart mobility pioneer, SWAT Mobility.
"We believe that our service will scale exponentially in 2022 because more people are looking at how they can reduce their carbon footprints through their everyday rides. Leveraging on our technology and traction, our goal is to help cities tackle inaccessibility, road congestion and air pollution through shared mobility." said RushOwl's co-founder and CEO, Shin Ng.
Jean Pierre Sedaghat, Partner at the Workplace Accelerator said "RushOwl is rethinking how people go to and get home from work.  Whilst a lot of the world may be going remote, a large part still needs to commute.  RushOwl's ability to make that process easier as well as its proven proprietary data model and the potential environmental uplift are all reasons the Workplace Accelerator was excited to support them".
With the seed round funding, RushOwl will continue to work on better user experiences within the RushTrail app, partner with electric vehicles and launch new mobility products to value-add to the firm's smart commute ecosystem. The company will also be strengthening its presence in the Singapore market and expanding to mass markets like Vietnam and India by 2022.
About RushOwl Singapore
Founded in 2018, RushOwl has since worked with established smart city stakeholders like JTC, HDT (Subsidiary of Electric Bus Maker, BYD China) and SMRT to provide smart mobility solutions for passengers. The smart mobility startup offers on-demand and region-to-region routes to meet every passenger's needs, and partners with fleet owners, smart cities and even governments globally to create digitised transportation infrastructures.
About The Workplace Accelerator
The Workplace accelerator is APAC's first dedicated HRTech focused programme specifically for businesses wanting to grow across Southeast Asia.  Entrepreneurs are supported by +200 advisors and mentors with expertise across HR, Technology, and venture building. The accelerator provides participants with hands-on expertise and support to fuel their growth with the aim of becoming the category champions.